10 days and counting until Henri and I are beach-bound. I'll soon have my toes in the sand and be happily brushing it from Henri's paws with my handy-dandy dust pan broom. It's a great tool for brushing sand and dirt from feet and paws after an excursion. You should get one. That's tip number 1!
Since we probably aren't the only ones hitting the road soon, I thought some suggestions on how to have a better road trip with your dog might be in order. Whether you and your pup are seasoned travelers or first timers, there's probably some useful info in here for you.
Things Your Dog Needs When Traveling
Hi. My name is Denise and I'm a post-it note addict. I like lists. So, let's start there. Make a list of all the things your dog uses on a daily basis. Here are some suggestions:
leash
collar
harness
food/ water bowls
food
medications
treats, toys, and chews
bed, bedding, and/or crate
All this stuff needs to go with you. In addition to the daily things, you may want to take a brush and some dry shampoo or deodorizer, cleaning supplies for accidents, and a copy of your dog's shot records, including contact info for your personal vet. If your dog is on medication, make sure all prescriptions are refilled before you go.
You made your list, you checked it twice. Now it's time to consider the actual drive. Where and how will your dog ride? How long can your dog go without a potty break? Did you pack a travel bowl and an extra bottle of water for the pooch? How will you handle your dog's stress on the road or in a new place?
Car Riding Safety For Your Dog
Now that you're packed, let's talk about car riding safety for your dog. Your dog should be restrained or contained. I use a hammock style seat cover to keep Henri in the back, but you may need or wish to use a crate. If so, it needs to be in a ventilated location so your dog doesn't over-heat or get cold, and it needs to be secured. If using a harness, it should be capable of maintaining the dog's stability without completely restricting movement. For the safety of your dog and other passengers, remember the words "restrained or contained." You don't want your dog launching off the seat during a collision.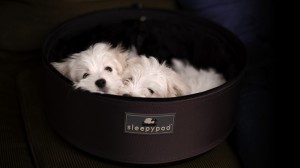 In 2013 the Center for Pet Safety tested pet harnesses; only 7 brands were deemed good enough to move on to crash testing. Of those, Sleepypod was the Top Performer. I do not have personal experience with this product, but I have looked at their website and watched the crash test videos. I also have a few dog training clients who've given them good reviews. Sleepypod makes both enclosed devices and harnesses.
For the most updated information and to find a CPS certified harness or carrier, you can visit the Center for Pet Safety.
If you've never traveled with your dog in a restraint system, take a couple of car rides to allow your dog a chance to get used to the idea before heading to Grandma's house in Timbuktu.
And speaking of Timbuktu…I know Henri can pretty much 'hold it' forever, longer than I can anyway. If you're traveling with kids, it's likely that you won't need extra stops for the dog either. Just make sure he gets out of the car, stretches, and potties when everyone else does. Old dogs will need a stretch and young dogs may need a romp. Many gas stations now have fenced potty areas to safely accommodate the needs of canine travelers. Throw the ball or something. You can listen to a book on tape, the kids can watch a video or color, but your dog is pretty much a captive.
This pit stop is also good time for a water break. You did pack the travel bowl and a bottle of water, right?
Staying in a Strange Place With Your Dog
If a hotel stop is in your plans, then make sure you've verified that the hotel is dog-friendly and you know the size restrictions and pet fees. Regardless of what any website says, I always call. Each brand is different, and many brands have differences from hotel to hotel. One La Quinta may charge a pet fee, but another LQ doesn't; one ALOFT has size restrictions, one has soft limits. My point is CALL THE HOTEL directly, even if you've stayed with them in the past. Many policies have changed due to COVID
Whether staying in a hotel, an Airbnb, or with a family member, it's important that your dog is a nice house guest. Do what you can to make him comfortable, but keep in mind that not everyone likes dogs (I mean, I don't know any people like that, but you might). If it's an option, create a set-up that mimics home. For us, that means I travel with Henri's blanket and bed. He sleeps on his bed at night, but during the day, he likes to be on my bed. I spread his blanket across it to minimize dog hair on someone else's comforter. If your dog normally sleeps in your bed, pack a dog sheet.
Managing Travel Stress In Your Dog
Travel can be stressful. Help your dog cope by keeping this in mind and investing in a couple of products I LOVE. The first is Rescue Remedy, for homeopathic stress relief. I don't go anywhere without it, and it isn't just for Henri; I take it, too. Just a few drops can help take the edge off when adjusting to travel, a new place, or terrible in-laws.
The second product is Adaptil with Dog Appeasing Pheromones. It comes in a spray formula that's perfect for travel and is, in fact, now called "travel spray." This is another product I keep this product in my bag at all times. I use the spray in the car or on Henri's bedding for long trips, and I've been known to spritz the collar of nervous pups I meet in public places. A few squirts on a bandana tied around your dog's neck will also work.
Loading up the family and hitting the road can be stressful. Hopefully, these few tips will help your dog not be the problem. Sorry I  can't help with your spouse or kids.